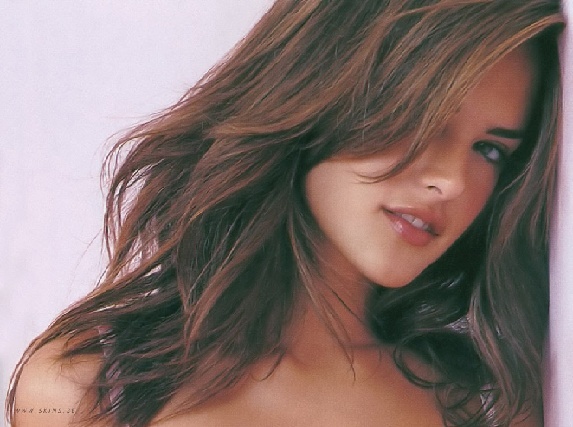 •Her Name: Alexis Vivian Torez
•Her Age: 16
•Her Gender: Female
•Her Sexuality: Straight
•Nickname: Lexie
•Birthdate: 23rd December 1993
•Birth Place: London ; England ; Europe
•Mutual Status: Single babyy
•Current Residence: L.A ; California ; USA
•Blood Type: A
•Occupation: Student & Part-time Model
•Hair Colour: Dirty blonde through brown
•Eye Colour: Hazel green
•Body: Slender
•Complexion: Tanned
•Height: 5"6
•Weight: 105lbs
•Everything: Alexis is a gorgeous party fanatic who's looks are everything. Her hair is a dirty blonde through brown, her eyes a shimmering hazel green, her body is slender & her complextion tanned & glowing. Her height is fairly tall & her weight is around 105lbs so she is very skinny & she fits into a size 2 womans. Her hair falls without her trying & is quite long as she likes to grow it out, her whole body compliments those eyes of hers. She has no flaws in her skin, which is also rid of blemishes. A little secret which most people don't notice in Alexis is that she has a small tattoo on the back of her neck, it's not often seen.
•Likes: Parties, sex, drinking, drugs, adventures, traveling, photography & boys
•Goals: To find my father & find out who I really am & what I can do with my life
•Dislikes: Bitches, long conversations, snobs, girly-girls & talking alot
•Fears: Death
•Everything: Alexis is a really quiet girl unless she gets drunk. Parties are her way of letting her feelings out as well as drinking & taking various types of drugs. Her life is full of one night stands & traveling around the world in search for her long lost father she's never known or met at all, even when she was little. Even if Alexis does get a bit crazy sometimes she's still a quiet & shy girl who hates all THOSE bitches, snobs & girly-girls who say things like "OMG I BROKE A NAIL!!!". Alexis is bubbly, friendly, shy & quiet, it seems as if she leads a double life when drunk, it gets in the way sometimes, & the hangovers are murder. Alexis isn't always liked, why? She has no idea, but she carries on she doesn't give a shit about what anyone thinks about her, only her close friends get her & that's how she likes it.
Alexis Vivian Torez was born on the 23-12-93 to mother Daphnie Torez in London 2 days before Christmas Eve. Alexis is an only child & has a mystery on her hands. Every year on her birthday her mum would tell her the story of her long lost father she never knew, and i it went something like this... "Once upon a time lived a handsome young english lord named Edward who was traveling the world when he came across a beautiful young woman called Daphnie. They were both traveling around Africa & fell in love when they first layed eyes on each other, they married almost straight away & then Edward took Daphnie back to england for her to meet his parents. Lord Daim & his wife Clarissa Daim didn't like the look of Daphnie they sent her away almost straight after they met her & banned Edward from seeing her again. They never again found eachother, but then a year later Daphnie was blessed with a beautiful baby girl named Alexis". Alexis is now determined to find her long lost father Edward, she'll do whatever it takes & that involves traveling back to England. But for now Alexis intends on making her years at West Pacific Academy worth the while, while in the holidays she can travel to England in attempt to find Lord Edward Daim.
I give my APPROVAL. This is one awesome Bio Britt. Hope to see you ICly, even though I am a supposed outcast. We can be friends!



Posts

: 48


Join date

: 2010-12-06



Thanks, & sure!

Damn small ass print, but thats okay.

And uhh,



Posts

: 31


Join date

: 2010-11-25


Location

: Spongebob's Pinneapple



Is that Alessandra Ambrosio? If it is, I love her!!



Posts

: 61


Join date

: 2010-11-30



Yeah it is Alessandra Ambrosio

Accepted, welcome to West Pacific Acad.
Admin




Posts

: 147


Join date

: 2010-11-23





Similar topics
---
Permissions in this forum:
You
cannot
reply to topics in this forum